Custom
Need to customize a workshop for your specific needs?
Okay Meg Ryan in When Harry Met Sally- let's do it.
A one-on-one session is helpful when you're ready to take the next step in the right direction and need a personal approach. Any and all of the workshops can be delivered in a one-on-one setting, allowing us to delve more deeply into the subject matter and/or relate the content specifically to your own experiences. This option is also recommended if you'd like to explore more personal topics you're less comfortable sharing in a group setting (or are just the person most likely to go sit with the cat at a party).
Please note: sessions are not intended to take the place of what a licensed therapist or emergency services can provide. Please read the disclaimer for the sake of transparency.
Do you want to work on establishing strong boundaries or becoming more assertive? Do you have a few friends who could benefit from the same work (and who could be trusted to help hold you accountable afterwards)? I'd love to work with you! Let me know which session or topic appeals to you, and we'll work out an approach that suits your needs.
Everything is customizable, so please don't hesitate to get curious, no matter how big or small the group. I've spoken to groups that range in sizes from 3 to 200+ and not once have I ever had to envision anyone naked. That's rude.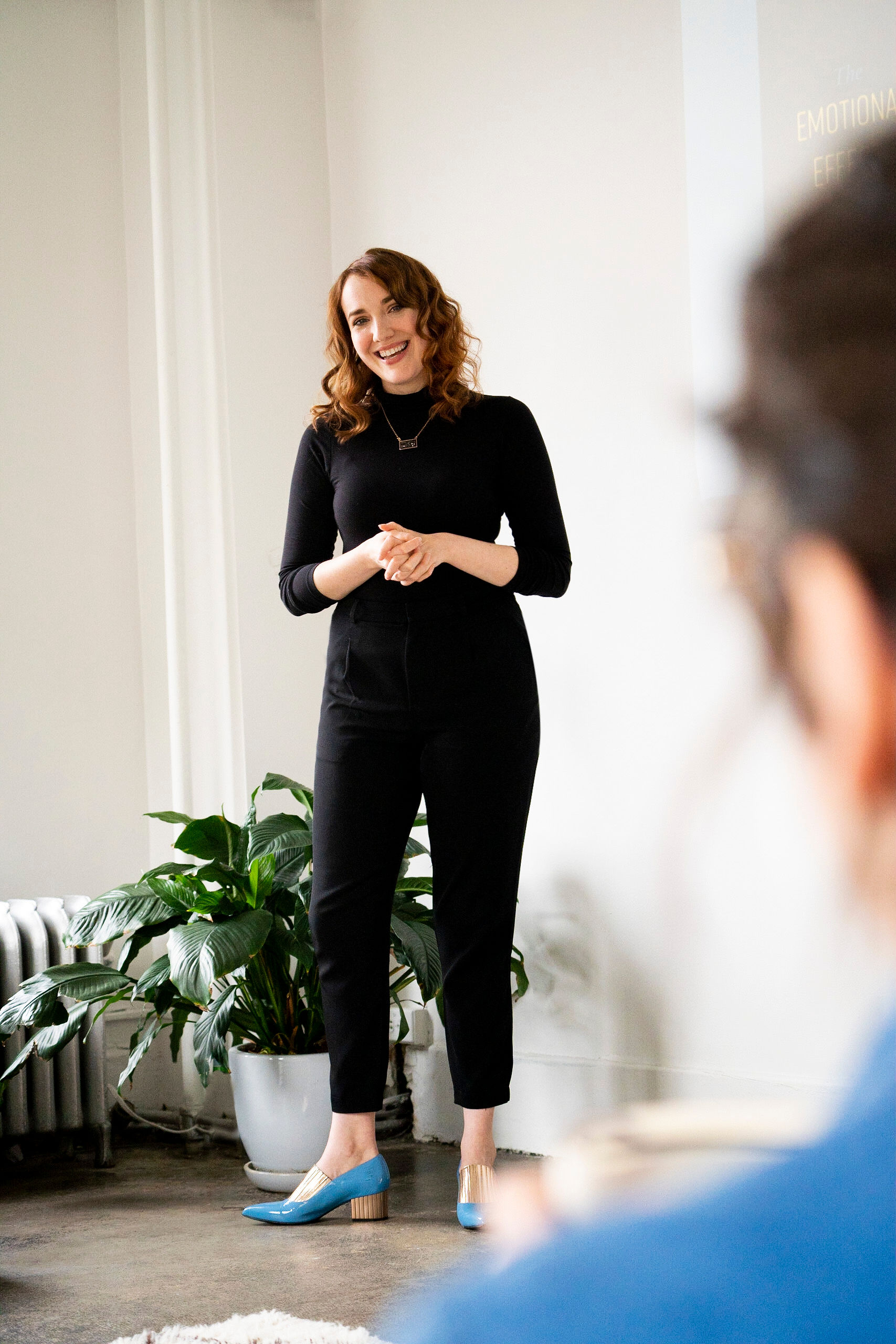 Need something customized for you or your business? I'd love to help! And if it turns out I'm not the best person to meet your needs, I'd be happy to recommend someone from my own network.
Please note: diversity and inclusivity is a hugely important topic. While I certainly aim to make my own work inclusive, I am still a white, straight woman, and so if you're looking to broaden your own perspective (and are going to pay somebody to do it) I'd suggest reaching out to one of the excellent people I love learning from (and pay them instead). Find them on my Resource page.
Working Remotely
We're all busy with work, life, Netflix binges, etc. As a result, the majority of the work I offer can done remotely. Whether you live on the other side of the world, travel for work, or just hate having to put pants on, we can find a solution that meets your needs.
I'm also available to host specialized sessions as workshops for panels, events, schools or crisis centres.
If you are affiliated with any of the above, and interested in working together, reach out and we'll discuss possibilities (including pro-bono options).
Please note: It's my aim to be accessible. If the payment feels beyond your reach but you want to work together, please send me an email at meghan@meghantalks.com and we'll talk!